I must have been channelling my hero Ray Bradbury (August 22, 1920 – June 5, 2012 RIP) yesterday when I responded to an
invitation on Twitter from Litro magazine
to submit a 140 character maximum story to Tales On Tweet. My effort appears
here on the @TalesOnTweet timeline
(you may need to scroll down if other submissions have been added). *Cough* If you should feel inclined to RT or even fave my piece I would not be in the least offended.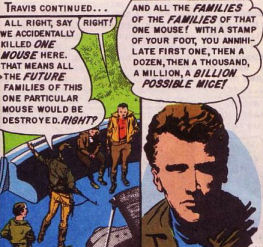 If, as was the case with most of my family, you have not a clue what to make of my tale, this
free Ray Bradbury classic story
might give you hint. Beware, though, reading this could be the start of a lifelong Bradbury addiction. And, if you didn't already know, you'll learn the source of an expression you've heard many, many, times and almost certainly quoted yourself.